<!.. /frame ..>


<!.. summary ..>


5 Second Summary:

Search the web with several tools in succession.


No search will find everything.




Different tools suit different questions.

<!.. /summary ..> For many of us, searching the web is simply typing words into a search engine. This works, until it doesn't, and then we need something more.

Contrary to myth, global search engines are not the best place to start most of the time. Just some of the time. On other occasions, start with a directory, a meta-search engine, a guide, an faq... There is no simple search of everything. Specific tools excel at locating different types of webpages. This page is arranged to follow this insight.

There is more to effective internet research than selecting the right tools and invoking Boolean syntax. Firstly, Information clumps. Information is not established in isolation but instead develops in context, is reinforced, and becomes a trend. The publishing motivation and promotion purpose helps us both pre-select the most likely types of sites and rapidly judge the content of a website. The webpage address can tell us a great deal about both the website structure and the type of publisher. These topics are covered in greater detail in Section 31 of the Information Research FAQ.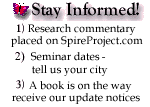 A skilled searcher can swiftly segment and search the most promising areas of the web. If answers are not quickly found, there may be other more appropriate resources to consider. Perhaps ask an appropriate discussion group or review printed literature instead. The Web always remains just one resource among many.
If your primary interest is Search Engines, consider reading A Higher Signal - To - Noise Ratio: Effective Use Of Web Search Engines by Bob Bocher & Kay Ihlenfeldt, Sink or Swim: Internet Search Tools & Techniques by Ross Tyner and the recent The Search is Over by Adam Page. Read also Searching the Internet a publication in the Scout Toolkit and browse Search Engine Watch.
Searching the web is more a skill than most of us acknowledge. The web is a manifestation of the demon professional researchers work with all the time in the commercial information market. There is constantly the fear you have missed that single important site with everything. Consider the researcher's motto:


Someone, somewhere, probably knows the answer.

How long do we search for gems and where do we look? To decide, we must learn about internet structure and organization. Why is information published on the web? Why is it promoted? There is so much more than putting words into search engines.
<!.. twin column ..>
#1 Motivation
We can make some very astute generalizations about a webpage very quickly if we can judge the reason it was published. Not only is this an important step in analyzing any information but this tells us a great deal about the contents of a webpage.

Yes, merely determining a site belongs to an association actually specifies the quality, motivation and type of information we will find.

Associations either publish what is termed 'brochureware' (promotional material), or if well advanced, present research work previously restricted to the association library: important research studies and the like.

Commercial interests have much more difficulty delivering useful resources. The importance of projecting a corporate image comes first (lots of 'brochureware'), and service descriptions come second. On occasion, commercial interests will support a worthwhile service tied closely to their own service - thus banks present interest rates and bookstores present their book stock.

The certainty with which we can make these judgments will astound you. Corporate websites never publish "changes to patent law". They simply don't have the motivation. Only an individual would publish this, most likely not on the web but though a mailing list.
<!.. /twin column ..>

Information is not distributed randomly. Consider Format, Preparation, Motivation and Promotion. Consider this, then Visualize the information you seek.

#2 Promotion
We can make further snap judgments about web information from the way you get there. Promotion is very difficult on the web, and it is hard to find poorly promoted information. The tools you use to reach information pre-determines the type and quality of information you will find.

Search engines index webpages indiscriminately. Advertised websites must have a pay-off. Directories focus on established websites (not webpages). Link pages also link to established websites but put more thought into the selection of resources. Both usually focus on general sites. For specific or current resources, we need to move to mailing lists or active nexus point.

Yes, when we find a webpage through the Scout Report (a prominent resource discovery newsletter), we can assume the webpage has a high quality of information, is reasonably current and has a general appeal (within the interest of the newsletter readers).

Let us now put our car in reverse. If we are looking for a recent document by a prominent library committee, we will not find it through Altavista, Yahoo, or normal link pages (except accidentally). We will find it through specialist newsletters, active nexus points and library mailing lists.

#3 Visualize


This discussion continues in Chapter 3
of the Information Research FAQ.

When an artist begins to paint, they visualize the image. They already have a concept of the finished result. Internet research is no different. We start by building a vision of the information we seek. Who would publish it? What is their motivation? Who would promote it? How will I find it?

Information Clumps. Information is created, nurtured, develops, gets transplanted, gets arranged and becomes visible through a process which brings similar information together. Your understanding of this process, including motivation and promotion, must guide your search. Only then will we will know where to look, and quickly know if the answers lie on the web. <!.. Definitions ..> <!.. Definitions ..> <!.. Definitions ..> <!.. Definitions ..> <!.. Definitions ..> <!.. base ..>