<!.. /frame ..>
Another prominent source are the local service directories, such as InfoLink in Western Australia. Most communities have a public directory of local associations and government authorities. If in doubt, ask a local librarian for directions to such a directory.

<!.. summary ..>


5 Second Summary:

Easily search past discussion via archives & FAQs.


For value, search for the private, moderated forums.




Associations are listed in national print directories.

<!.. /summary ..> There are three important research applications for mailing lists.
1) Research through past discussion,
2) Directly ask members for assistance,
3) Become a participative member to pick up and exchange information.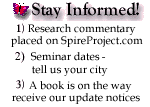 On a personal side, mailing lists are easy to use and a minimal investment in time (the information comes to you). However, mailing lists are difficult to develop and maintain. Few reach the potential brilliance of this form of communication, so many of the forums you come across will be non-existent or on their deathbed.

Mailing lists depend on four vital ingredients - Content, Participation, IT-support, and Management. Often, one of these elements go wrong and the forum dies. As a member, there are important obligations starting with participation, and ending with forum etiquette.

The better forums are private. Membership is not automatic, the list manager has more control, and often, more control and effort is expended developing interesting content and discussion. If you find a closed or private forum, persevere.

Associations
When a group of like-minded individuals come together to achieve an aim, they often create an association. What better place to research? Even better, associations often interpret their purpose as a place to pool and distribute information. Larger associations often maintain a small library of their own and many associations publish documents about their area of interest. Furthermore, if you are seeking an expert in a given field, associations are sure to have one, or two, or many. For the smaller associations, be polite but firm in describing your interest and be ready to buy whatever small book they do publish in your quest for further information.

The FAQ
An FAQ is created to enhance the discussion of a newsgroup. After a time, the initial members of a newsgroup would have discussed many of the standard topics to death, which newcomers will still find interesting. To prevent only discussing introductory topics (and annoying long-term members) an FAQ is created to record answers to standard questions.

Because one of the primary functions of a special interest group is resource discovery - and because FAQs are collectively created, they are valuable and generally reliable. I consider the Official Copyright FAQ the best document in the world on copyright law.

As an aside, many FAQs are also available as web pages. Trouble is, without an system to vet true newsgroup FAQs, you are far more likely to encounter FAQs which have not been vetted by the news.answers team. The Official Copyright FAQ is 70+ pages of topical and factual detail with links to further information. There are several other copyright FAQs with less than 10 pages, (and not particularly concerned with providing information). Access an established FAQ archive for your FAQs. www.faqs.org has a small list (but is elegant as a source of FAQs). Another longer list resides midway down this document.

Discussing the mailing list, I thought long and hard on how to simplify the task of communicating with list software. Not only are there five prominent list software packages but each package allows us to accomplish different things. The email interface predates popular use of hypertext, and is a little clumsy at first - especially if you are interacting with different mailing lists as a researcher will.

Our solution is threefold:

Firstly, James Milles of the Saint Louis University Law Library has graciously permitted us to include his grand table of Mailing List Commands divided by list package. Very comprehensive and easy to use lookup file.
Secondly, hypertext allows us to add information into the subject of an email message. With this in mind, we have added shortcut email links to our articles for the more common tasks. You must move the subject information into the body of the message, then post.
Here are two examples:
BusLib-l (Business Librarians' Electronic Discussion List)
subscribe | post to Buslib-l | index the archive | retrieve from archive | subscribers list | digest | cancel digest | unsubscribe.
* Access also available as the newsgroup bit.listserv.buslib-l (see Deja.com's usenet archive).
Libref-l (Government Documents List)
subscribe | post to Buslib-l | index the archive | retrieve from archive | subscribers list | digest | cancel digest | unsubscribe.
These are usually willing to field polite focused questions about your research project.

For your convenience, this form will create the html used above for mailing lists of your choice. Save the file this generates for convenient use later.
<!.. local ..>
Thirdly, retrieve the technical help files for the list software.


Listserv - send help, info refcard, & info database to listserv@kentvm.kent.edu
Listproc - send help & help listproc to listproc@ucdavis.edu
Majordomo - send help to majordomo@greatcircle.com
Mailserv - send help to mailserv@loyola.edu
Mailbase - send help to mailbase@mailbase.ac.uk
<!.. base ..>